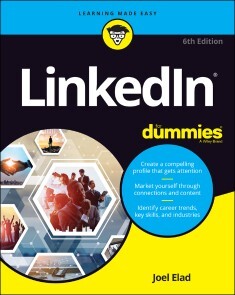 Lieferzeit Sofort lieferbar
LinkedIn For Dummies, Wiley
Von Joel Elad, im heise Shop in digitaler Fassung erhältlich
Artikel-Beschreibung
BRAND YOURSELF LIKE A PRO ON LINKEDIN
LinkedIn multiplies what you know by the power of who you know to deliver the number one social platform for business professionals and new job seekers. LinkedIn For Dummies shows LinkedIn newcomers the best ways to discover new opportunities, enhance their personal brand, network with other professionals, and give an exponential boost to their career. Consider this book a passport to help you connect more successfully with many of LinkedIn's 660+ million members in over 200 countries, as well as an expert guide to the platform's tools and features and the proven tactics that get you noticed.
In this friendly, all-access introduction to the LinkedIn scene, entrepreneurship guru Joel Elad clues you in on the essentials. Get the latest insight on how to create an attractive profile that will make employers give you a second glance as well as techniques for making useful connections across the globe. In no time at all you'll also be right at home with the profile user interface and getting busy with adding content, searching for career opportunities, and, if you're looking to hire for your company, recruiting top candidates.
* Build your personal brand and market it
* Sell yourself by highlighting skills, awards, and endorsements
* Get connected with LinkedIn groups
* Manage and make introductions via InMail
Relationships matter: LinkedIn For Dummies gives you the online social skills to turn six degrees of separation into the colleagues, mentors, and friends who will transform your career—and your life.
JOEL ELAD is a social networking, Internet, and ecommerce guru with a software development background and a yearning for entrepreneurship. He is the author or coauthor of several books, including Facebook Advertising For Dummies and Starting an Online Business All-in-One For Dummies as well as previous editions of LinkedIn For Dummies.
INTRODUCTION 1
About This Book 2
Foolish Assumptions 2
Icons Used in This Book 3
Beyond the Book 3
Where to Go from Here 3
PART 1: UNDERSTANDING LINKEDIN BASICS 5
CHAPTER 1: LOOKING INTO LINKEDIN 7
Understanding Your New Contact Management and Networking Toolkit 8
Keeping track of your contacts 9
Understanding the different degrees of network connections 10
Discovering What You Can Do with LinkedIn 13
Building your brand and profile 13
Looking for a job now or later 14
Finding out all kinds of valuable information 16
Expanding your network 16
Navigating LinkedIn 17
Touring the top navigation bar 18
Looking at the Settings & Privacy page 19
Understanding LinkedIn Costs and Benefits 20
Weighing free versus paid accounts 20
Comparing the paid accounts 21
Upgrading to a premium account 24
CHAPTER 2: SIGNING UP AND CREATING YOUR ACCOUNT 27
Joining LinkedIn 27
Joining with an invitation 28
Joining without an invitation 29
Completing the sign-up process 30
Building Your Network 39
CHAPTER 3: COMPLETING YOUR PROFILE 43
Adding a Summary and Basic Information 43
Updating the basic information sections 45
Writing your summary first 52
Completing Your Summary 54
Adding More Profile Sections 55
Adding a Position 57
Reporting Your Education 60
Setting Your Profile URL and Public View 63
PART 2: FINDING OTHERS AND GETTING CONNECTED 67
CHAPTER 4: DISCOVERING AND BUILDING YOUR NETWORK 69
Searching Your First-Degree Connections 69
Searching the LinkedIn Network 72
Starting with basic search options 73
Advanced searching with filters 76
Performing advanced searches 78
Saving searches for future use 79
CHAPTER 5: GROWING YOUR NETWORK 83
Building a Meaningful Network 84
Importing Contacts into LinkedIn 87
Importing a contacts list from your email system 87
Checking for members 91
Finding classmates 91
Using the People You May Know feature 93
Browsing your connections' networks 94
Sending Connection Requests 97
Sending requests to existing members 98
Understanding why you shouldn't use canned invitations 99
Sending requests to nonmembers 100
Communicating the value of joining LinkedIn 102
Removing people from your network 103
Accepting (or Gracefully Declining) Invitations 105
CHAPTER 6: MANAGING MESSAGES AND INMAIL 107
Using InMail versus Using LinkedIn Messages 108
Understanding LinkedIn messages 108
Understanding your inbox 110
Getting to know InMail 112
Sending InMail 113
Managing Invitations 115
Tracking sent invitations 115
Tracking received invitations 116
Setting Up an Introduction 118
Planning your approach to each person 119
Sending an introduction request message 120
Managing Introduction Requests 122
Accepting requests and forwarding the introduction 123
Gracefully declining requests 126
CHAPTER 7: INTERACTING WITH AND ENDORSING YOUR NETWORK 127
Interacting with Your Network 128
Creating a status update to stay connected 129
Interacting with status updates 132
Giving and Receiving Endorsements on LinkedIn 136
Endorsing someone on LinkedIn 138
Accepting endorsements on LinkedIn 139
Managing your skills and endorsements 141
PART 3: GROWING AND MANAGING YOUR NETWORK 145
CHAPTER 8: UNDERSTANDING YOUR NEWS FEED 147
Understanding the News Feed 148
Configuring Your News Feed 151
Setting Up Digest Notifications 153
Writing an Article on LinkedIn 155
Managing Post Interactions 158
CHAPTER 9: EXPLORING THE POWER OF RECOMMENDATIONS 161
Understanding Recommendations 162
Writing Recommendations 164
Choose wisely, grasshopper: Deciding whom to recommend 164
Look right here: Making your recommendation stand out 165
Creating a recommendation 166
Requesting Recommendations 168
Choosing whom to ask 168
Creating a polite recommendation request 169
Gracefully Declining a Recommendation (or a Request for One) 171
Managing Recommendations 172
Editing or removing recommendations you've made 172
Handling new recommendations you've received 174
Removing or requesting to revise a recommendation 175
CHAPTER 10: ACCESSING LINKEDIN WITH A MOBILE DEVICE 179
Surveying the LinkedIn Mobile App 180
Installing Any LinkedIn Mobile App 182
Breaking Down the Sections of the LinkedIn Mobile App 184
Connecting Your App Usage with Website Usage 189
CHAPTER 11: CONFIGURING SETTINGS LIKE A PRO 191
Using the Settings & Privacy Page as a Command Console 192
Starting with Basic Account Changes 194
Controlling Visibility and Privacy Settings 199
Finalizing Your LinkedIn Communications Settings 206
CHAPTER 12: USING LINKEDIN WITH YOUR INTERNET ACTIVITIES 211
Exporting LinkedIn Connections to Your Email Application 212
Creating your contacts export file in LinkedIn 212
Exporting contacts to Office 365 214
Exporting contacts to Outlook (non-Office-Suite version) 215
Exporting contacts to Gmail 215
Exporting Your Profile and Badge 217
Exporting your profile to a PDF file 217
Creating a public profile badge for other websites 219
PART 4: FINDING EMPLOYEES, JOBS, AND COMPANIES 223
CHAPTER 13: FINDING EMPLOYEES 225
Managing Your Job Listings 226
Posting a job listing 227
Advertising your job listing to your network 231
Reviewing applicants 234
Screening Candidates with LinkedIn 237
Using Strategies to Find Active or Passive Job Seekers 238
CHAPTER 14: FINDING A JOB 241
Searching for an Open Position 242
Tuning Up Your Profile and Network to Make a Good Impression 246
Preparing Your Profile and Account Settings for Job Searches 247
Checking your profile's visibility 247
Optimizing your profile 249
Involving LinkedIn in Job Search Strategies 250
Leveraging connections 251
Finding people with the same or similar job 252
Taking advantage of your alma mater 252
Finding target company referrals 253
CHAPTER 15: FOLLOWING COMPANIES 255
Searching for Companies 256
Putting Your Company on LinkedIn 259
Adding a Company page to LinkedIn 260
PART 5: USING LINKEDIN FOR EVERYDAY BUSINESS 267
CHAPTER 16: GETTING CONNECTED WITH GROUPS 269
Reaping the Benefits of Groups 269
Understanding the Two Types of Groups 271
Joining a Group 272
Starting and participating in group discussions 274
Viewing a group's membership list 279
Creating a Group 280
Setting Up the Group and Inviting Members 282
Building and managing your member list 283
Crafting your invitation email 284
Approving members to your group 285
CHAPTER 17: IMPLEMENTING SALES AND MARKETING TECHNIQUES 289
Marketing Yourself through LinkedIn 290
Optimizing your profile 290
Marketing yourself to your network 293
Marketing Your Business through LinkedIn 295
Using online marketing tactics with LinkedIn 295
Mining for Clients 296
Generating leads with the Advanced People search 297
Finding the decision-maker 299
Closing the Deal 301
Preparing for the client meeting 301
Reporting a positive sale 303
CHAPTER 18: USING LINKEDIN ADS 305
Understanding LinkedIn Ads 305
Finding Out about Filtering Options 307
Creating an Ad Campaign 309
Managing Your Ad Campaign 317
CHAPTER 19: DISCOVERING CREATIVE USES OF LINKEDIN 321
Mashing LinkedIn with Other Services 321
LinkedIn and Google Alerts 322
LinkedIn Archives and Data Syncing 323
LinkedIn and WordPress work together 325
Building Your Focus Group 326
Using Location-Based LinkedIn Ideas 328
Building your network before moving to a new city 328
Arranging face-to-face meetings when traveling 330
Networking with LinkedIn in person! 331
PART 6: THE PART OF TENS 335
CHAPTER 20: TEN LINKEDIN DO'S AND DON'TS 337
Do Keep Your Profile Complete and Current 337
Don't Use Canned Invitations 338
Don't Expect Everyone to Network as You Do 339
Do Your Homework 340
Do Give LinkedIn Messages Equal Importance 341
Don't Spam 343
Do Make New Connections 344
Do Cross-Promote 345
Do Add Value to the Process 345
Don't Confuse Quantity with Quality 346
CHAPTER 21: TEN LINKEDIN RESOURCES 347
The Official LinkedIn Blog 347
LinkedIn Integrations with Zapier 348
LinkedIn Marketing Solutions 348
LinkedIn YouTube Channel 349
Linked Intelligence 350
LinkedIn Speaker Series Podcast 350
LinkedIn Plugins 351
Social Media Examiner 351
TextExpander 351
Buffer 352
Index 353
Artikel-Details
Anbieter:
Wiley
Autor:
Joel Elad
Artikelnummer:
9781119695394
Veröffentlicht:
19.03.2021
Seitenanzahl:
384