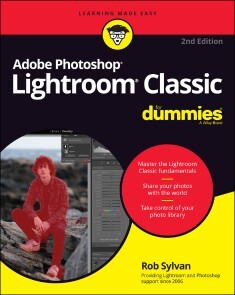 Adobe Photoshop Lightroom Classic For Dummies
Lieferzeit Sofort lieferbar
Adobe Photoshop Lightroom Classic For Dummies, Wiley
Von Rob Sylvan, im heise Shop in digitaler Fassung erhältlich
Artikel-Beschreibung
LEARN TO MAKE YOUR DIGITAL PHOTOS *POP* WITH EASY-TO-FOLLOW HELP USING AI-POWERED SOFTWARE FROM ADOBEWith no prior photography or editing experience necessary, AdobePhotoshop Lightroom Classic For Dummies delivers a must-have walkthrough for taking your photos to the next level using Adobe's powerful consumer software. You'll learn the fundamentals of opening your pictures, managing your photo library, and fixing common problems—like redeye and poor lighting—before jumping into more advanced topics, like creating slideshows and troubleshooting problems. The perfect place to begin learning how to improve your family photos, AdobePhotoshop Lightroom Classic For Dummies also helps you discover:
* How to take control of and organize your photo library
* How to apply common artificial intelligence-powered photo enhancements with the click of a mouse
* Ways to share your photos with the world, both digitally and on paper
The premier jumping-off point for aspiring photo editors everywhere, this book is a can't-miss resource for anyone who wants to make the most of their digital photo collection and for professionals who want to expand their design skillset by learning Adobe Lightroom Classic. ROB SYLVAN is a photographer, educator, and writer. Rob also authors and curates tutorials found within the Photoshop and Lightroom applications, is a Canon Product Educator, writes for LightroomKillerTips.com, regularly contributes to Photoshop User magazine, and teaches at photography industry conferences such as Adobe MAX, Photoshop World, PHOTOPLUS, and more.
Introduction 1
PART 1: GETTING STARTED WITH LIGHTROOM CLASSIC 7
Chapter 1: Getting to Know Adobe Photoshop Lightroom Classic 9
Chapter 2: Working with Catalogs 27
Chapter 3: Lightroom Classic Basics That You Should Know 47
PART 2: MANAGING YOUR PHOTOS WITH LIGHTROOM CLASSIC 67
Chapter 4: Tackling the Lightroom Classic Import Process 69
Chapter 5: Viewing and Finding Photos in the Library 91
Chapter 6: Getting Organized with the Library 117
Chapter 7: Exploring the Library Module's Advanced Features 141
PART 3: WORKING IN LIGHTROOM CLASSIC'S DIGITAL DARKROOM 163
Chapter 8: Editing Photos in the Develop Module 165
Chapter 9: Solving Problems and Saving Time 185
Chapter 10: Taking Your Photos to the Next Level 209
PART 4: SHARING YOUR WORK WITH THE WORLD 237
Chapter 11: Exporting Copies and Using External Editors 239
Chapter 12: Designing a Book 267
Chapter 13: Producing a Slideshow 285
Chapter 14: Printing Your Work 305
Chapter 15: Creating a Web Gallery 327
PART 5: THE PART OF TENS 343
Chapter 16: Ten Things to Know About Using Lightroom Classic and Lightroom Together 345
Chapter 17: Ten Things to Know About Organizing and Editing in Lightroom 353
Chapter 18: Ten Things to Know About Using the Lightroom Mobile Camera 365
Index 373
Artikel-Details
Anbieter:
Wiley
Autor:
Rob Sylvan
Artikelnummer:
9781119873235
Veröffentlicht:
23.03.2022
Seitenanzahl:
400