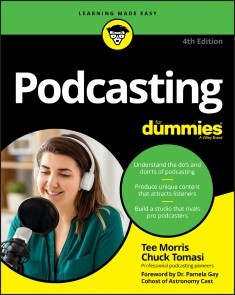 Lieferzeit Sofort lieferbar
Podcasting For Dummies, Wiley
Von Tee Morris, Chuck Tomasi, im heise Shop in digitaler Fassung erhältlich
Artikel-Beschreibung
ADD YOUR VOICE TO THE PODCASTING REVOLUTION!
The world is tuning into podcasts in larger and larger numbers. When you're ready to add your own voice to the mix, this book will help you find your niche. Featuring top tech information, production insight, and promotional tips, this best-selling podcasting reference shares the latest on podcasting trends and new audience demographics.
Written by a pair of podcasting pioneers, Podcasting For Dummies will help you refine your podcast idea, identify your audience, and get the scoop on how to record, edit, and share your work. You'll also learn how to apply the methods top podcasters monetize and market their work.
* Record your voice and conduct high-quality interviews for your new or existing podcast
* Edit, upload, and share podcast episodes online—and find people who will listen
* Learn how to make money as a podcaster or live streamer
* Discover interesting and original podcasts to inspire your own work
Podcasting for Dummies is your friendly tutor in the art of audio content creation. So start talking!
TEE MORRIS is an award-winning podcaster and the author of Twitch For Dummies and Discord For Dummies.CHUCK TOMASI is a Developer Advocate who has created thousands of hours of content for work and fun. Foreword xv
INTRODUCTION 1
About This Book 1
How to Use This Book 2
Conventions Used in This Book 3
Bold Assumptions 4
How This Book is Organized 5
Part 1: Podcasting on a Worldwide Frequency 5
Part 2: The Hills Are Alive with the Sound of Podcasting 5
Part 3: So You've Got This Great Recording of Your Voice: Now What? 5
Part 4: Start Spreadin' the News about Your Podcast 6
Part 5: Pod-sibilities to Consider for Your Show 6
Part 6: The Part of Tens 6
Icons Used in This Book 7
Beyond the Book 7
Where to Go from Here 8
PART 1: PODCASTING ON A WORLDWIDE FREQUENCY 9
CHAPTER 1: GETTING THE SCOOP ON PODCASTING 11
Deciding Whether Podcasting is for You 12
You want to deliver media on a regular basis 13
You want to reach beyond the boundaries of broadcast media 14
You have something to say 14
You want to hear from your listeners 15
Creating a Podcast 15
Looking for the bare necessities 16
Recording your first podcast 17
Compressing your audio files 18
Uploading your audio to the web 18
Grabbing listeners 20
There's an App for That 21
The old-timer: Apple Podcasts 22
Podcasting on the go: Stitcher 23
Welcome the game-changer: Overcast 25
Podcasting with the G-man: Google Play Music 27
A new 800-pound gorilla: Spotify 28
Other Podcast Resources 30
CHAPTER 2: GETTING THE GADGETS TO PRODUCE A PODCAST 31
Finding the Right Mic 32
A Beginner's Guide to Mics 33
Investing in a high-end mic 35
Podcasts Well with Others: The Mixing Board 40
The anatomy of a mixing board 41
Hooking up a mixer to your computer 43
Accessorize! Accessorize! Accessorize! 45
CHAPTER 3: BUILDING YOUR PODCAST'S DIGITAL WORKSTATION 51
Budget-Friendly (a.k.a Free) Software 52
Audacity: The risk-free option for all 52
Cakewalk by Bandlab for Windows: A complementary Step in Running with the Pros 53
GarageBand: Moby in your Mac! 54
The Sky's the Limit: Big-Budget Software 57
Adobe Audition 57
Apple Logic Pro X 58
Gluing It Together with RSS 59
Keep it simple and get a blog! 61
Doing it by hand 63
Podcast Management 101 64
Size does matter 64
Bandwidth demystified 65
CHAPTER 4: GO, GO, POWER PODCASTERS! 67
Podcasting with Your Laptop 68
Mackie Onyx Blackjack 68
Shure MVi 69
Podcasting with Your Mobile Devices 70
A Shure Thing: The MV5 and MV51 71
Two for the Røde: The VideoMic Me and smartLav+ 72
Podcasting with Portable Recorders 74
Zoom-Zoom-Zoom: The Handy Recorder line 74
From Cloud to Computer: Portable Audio Workflow 78
Getting audio from your portable recorder 78
Getting audio from your portable device 80
PART 2: THE HILLS ARE ALIVE WITH THE SOUND OF PODCASTING 83
CHAPTER 5: BEFORE YOU HIT THE RECORD BUTTON 85
Choosing a Unique Topic for Your Podcast 86
Finding Your Voice 87
What if I hear more than one voice? 89
Deciding Whether You Need an Outline or Script 92
Determining a Length for Your Show 94
The hidden value of the short podcast 94
A little length won't kill you 95
Finding that happy medium 96
Mark Your Calendar: Posting Schedule 97
Posting daily 97
Posting weekly 98
Posting biweekly (or fortnightly for our friends in the Commonwealth) 98
Posting monthly 99
I Hear Music (and It Sounds Like Police Sirens!) 100
The powers that be 100
I can name that tune I wrote it! 105
I'll take the First: Free speech versus slander 106
CHAPTER 6: INTERVIEW-FU: TALK TO ME, GRASSHOPPER 107
I'll Have My People Call Your People: Interview Requests 108
Preparing for Interviews 110
Asking really great questions 110
Avoiding really bad questions 113
Feelin' the synergy 114
Recording Interviews 116
Recording using Skype 116
Recording using OBS 118
Recording using hardware 121
Prepping Your Green Room for Guests 122
Welcoming in-studio guests 123
Meeting guests on their own turf 123
Ensuring Trouble-Free Recordings 125
CHAPTER 7: SO WHAT ARE YOU WAITING FOR? RECORD, ALREADY! 127
Did Your Sound Check Clear the Bank? 128
Understanding dB levels 128
Setting your levels 130
Noises Off: Capturing Ambient Noise 133
Identifying ambient noise 133
Minimizing ambient noise 134
Now Take Your Time and Hurry Up: Pacing and Clock Management 136
Take the potato out of your mouth and enunciate 137
And now let's take a break for station identification 138
Concerning Tangents and Their Val — Oh, Look, a Butterfly! 140
"Say, that reminds me of something " 140
"But getting back to what I was saying earlier " 141
Time to Push the Big Red Button! 142
Getting started with GarageBand 143
Getting started with Audacity 144
CHAPTER 8: CLEANUP, PODCAST AISLE 8! 147
A Few Reasons to Consider Editing 148
The Art of Editing 149
Editing with GarageBand 150
Editing with Audacity 152
Making Your Musical Bed and Lying in It: Background Music 154
Finding the right balance 155
Applying bed music the right way 156
Setting volume levels for bed music 157
Making an Entrance: Intros 161
Theme music 162
Intro greeting 162
Exit, Stage Left: Outros 163
Leave the audience wanting more 164
Catch phrase sign off 164
Credits roll 165
Coming soon to a media player near you 165
PART 3: SO YOU'VE GOT THIS GREAT RECORDING OF YOUR VOICE: NOW WHAT? 167
CHAPTER 9: SHRINK THAT PUPPY AND SLAP A LABEL ON IT 169
A Kilobit of Me, and a Whole Lot of You: Understanding Kbps 170
Care for a Sample, Sir? (Audio Sample Rates) 173
ID3 Tags: The 411 of Podcasting 176
Tell me about yourself: All about ID3 tags 176
IDentity crisis: Making ID3 tags work for podcasting 177
Creating and editing ID3 tags 179
CHAPTER 10: MOVE IT ON UP (TO YOUR WEB SERVER) 183
Show Art: Getting Graphic with Your Podcast 184
Adopting an Effective File Naming Convention 186
Understanding How FTP Works 188
Making Your Connection with an FTP Application 189
Step by step (or quack by quack) setup for Cyberduck 190
Step by step setup for FileZilla 191
A place on your web server for your stuff 192
Uploading your files 193
Uploading to a Podcast-Specific Host 195
CHAPTER 11: PROVIDING SHOW NOTES 197
Show Note Etiquette 197
Planning the Post 199
It's all in the details 200
A picture is worth a thousand words 201
Posting Your Show Notes 203
Posting in WordPress 203
Posting on LibSyn 207
Boosting Search Engine Rankings with Good Show Notes 209
Loading up your titles 210
Soliciting backlinks 211
PART 4: START SPREADIN' THE NEWS ABOUT YOUR PODCAST 213
CHAPTER 12: SPEAKING DIRECTLY TO YOUR PEEPS 215
Gathering Listener Feedback 216
Fostering Comments on Your Blog 217
Focusing on Online Forums 218
Social Media 221
Facebook 221
Twitter 222
Pinterest 222
YouTube? For audio?! 223
Instagram 224
Discord: The Lava Lamp of Online Communications 226
Using Voicemail 229
Seeking Out the Comments of Others 231
Trying a general search 232
Searching within a site, blog, or social media platform 232
When the Comments Are Less than Good 233
CHAPTER 13: FISHING FOR LISTENERS 237
Getting Your Podcast Ready for Promotion 237
Polishing your presentation 238
Checking your bandwidth 238
Figuring out your USP 239
Exploring Various Advertising Options 240
Give me a boost, Facebook 241
Insta-traffic with Instagram 244
Writing press releases 247
Promoting Your Podcast 250
Optimizing your site for search engines 250
Submitting promos to other podcasts 250
Recording your promo 251
Giving interviews 253
Generating buzz 254
PART 5: POD-SIBILITIES TO CONSIDER FOR YOUR SHOW 255
CHAPTER 14: SHOW ME THE MONEY 257
How Much Money Can You Make? 258
Convincing Advertisers to Give You Money 261
Developing a media kit 262
Establishing a rate sheet 267
Getting a Sponsor 267
Asking Your Listeners for Money 270
Gathering listener donations with PayPal 270
Building patrons with Patreon 272
Selling stuff 275
CHAPTER 15: PODCASTING FOR PUBLICITY 277
Podcasting and Politics 278
Telling the World a Story, One Podcast at a Time 281
Keeping Good Company: Community Podcasts 285
Creating a podcast to encourage testimony 285
Podcasting for fun (while promoting in the process) 286
CHAPTER 16: PODCASTING FOR PASSION 291
The Philosophical Question for All Podcasters: Why Do We Do It? 292
Gaining perspective on passion 292
Podcasting passion with a purpose 294
Sharing your passion with friends 294
A passionate love for the podcast 296
Holding Interest: Keeping a Podcast's Passion Alive 298
Podcasting on puree: Mixing it up 299
Starting a second (or third) podcast 300
Moving forward with a plan 304
When Podcasting, Be Like Bruce Lee 306
CHAPTER 17: ONE GIANT LEAP FOR PODCASTING: STREAMING CONTENT 309
In the Beginning: The Early Days of Video Podcasting and Live Broadcasts 310
Light, cameras, and say what: The unexpected demands of video podcasting 310
Going live (if you're lucky): Early attempts at live podcasting 313
Streaming Media: Podcasting Evolved 313
Going Live for Realz This Time: Streaming Your Podcast 316
The first step: Setting up a streaming account 316
Setting the stage: Working with Streamlabs OBS 318
And we're live! Podcasting in the moment 322
It's a stream, it's a podcast It's a stream and a podcast! 323
PART 6: THE PART OF TENS 327
CHAPTER 18: TEN TYPES OF PODCASTS TO CHECK OUT 329
Tech Podcasts 330
Independent Media Podcasts 331
Science Podcasts 333
Self-Development Podcasts 335
Comedy Podcasts 338
Slice-of-Life Podcasts 339
Gaming Podcasts 340
Podcasts of the Pen 342
Geek Podcasts 343
Podcasts about Podcasting 345
CHAPTER 19: TOP TEN REASONS TO PODCAST 347
You Are Considered a Subject Matter Expert 348
You Are Passionate about the Subject 349
You've Got a Creative Itch to Scratch 350
You Like Playing with Tech Toys 352
Bring Your Friends Together 353
All the Cool Kids Are Doing It 354
I Can Do More 354
Bring Out the Best in You 356
Talk to Interesting People 357
The Ultimate Thrill Ride 358
CHAPTER 20: TEN ORIGINAL PODCASTERS 361
Mignon Fogarty 362
Adam Curry 363
Mur Lafferty 363
Steve Boyett 364
Adam Christianson 365
Dave Slusher 366
Scott Sigler 367
Michael Butler 368
Dr Pamela Gay 369
Brian Ibbott 370
Authors' Footnote 371
Index 373
Artikel-Details
Anbieter:
Wiley
Autor:
Chuck Tomasi, Tee Morris
Artikelnummer:
9781119711827
Veröffentlicht:
13.10.2020
Seitenanzahl:
416