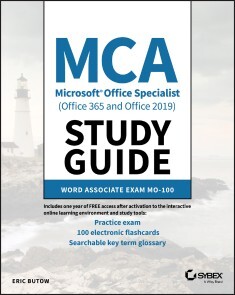 MCA Microsoft Office Specialist (Office 365 and Office 2019) Study Guide
Lieferzeit Sofort lieferbar
MCA Microsoft Office Specialist (Office 365 and Office 2019) Study Guide, Wiley
Word Associate Exam MO-100
Von Eric Butow, im heise Shop in digitaler Fassung erhältlich
Artikel-Beschreibung
LEARN THE REALITIES OF BEING A MICROSOFT OFFICE SPECIALIST AND EFFICIENTLY PREPARE FOR THE WORD ASSOCIATE MO-100 EXAM WITH A SINGLE, COMPREHENSIVE STUDY GUIDE
MCA Microsoft Office Specialist Study Guide: Word Associate Exam MO-100 comprehensively prepares you for the MO-100 Exam. Accomplished and experienced author Eric Butow provides readers with a one-stop resource for learning the job responsibilities of a Microsoft Office Specialist and succeeding on the MO-100 Exam.
The study guide is written in a straightforward and practical style which, when combined with the companion online Sybex resources, allows you to learn efficiently and effectively. The online resources include hundreds of practice questions, flashcards, and a glossary of key terms. In addition to preparing you for the realities of the Microsoft Office Specialist job role, this study guide covers all the subjects necessary to do well on the certifying exam, including:
* Managing documents
* Inserting and formatting text, paragraphs, and sections
* Managing tables and lists
* Creating and managing references
* Inserting and formatting graphics
* Managing document collaboration
Perfect for anyone seeking to begin a new career as a Microsoft Office Specialist, or simply wondering what the job entails, the Study Guide also belongs on the bookshelf of currently practicing professionals who want to brush up on the fundamentals of their role.
ERIC BUTOW is the author or coauthor of 35 books on multiple aspects of technology. He has also developed and taught networking, computing, and usability courses for Ed2Go, Virtual Training Company, California State University/Sacramento, and Udemy. Eric began using Word, Excel, and PowerPoint professionally in 1992. He has been a technical writer for large and small companies, and presently provides website development, online marketing, and technical writing services through his company, Butow Communications Group. Introduction xvii
Assessment Test xxii
CHAPTER 1 WORKING WITH DOCUMENTS 1
Navigating Within Documents 2
Searching for Text 2
Linking to Locations Within Documents 6
Moving to Specific Locations and Objects in Documents 7
Showing and Hiding Formatting Symbols and Hidden Text 8
Formatting Documents 11
Setting Up Document Pages 12
Applying Style Settings 13
Inserting and Modifying Headers and Footers 15
Configuring Page Background Elements 16
Saving and Sharing Documents 18
Saving Documents in Alternative File Formatting 18
Changing Basic Document Properties 19
Modifying Print Settings 21
Sharing Documents Electronically 22
Inspecting Documents for Issues 24
Locating and Removing Hidden Properties and Personal Information 24
Finding and Fixing Accessibility Issues 26
Locating and Correcting Compatibility Issues 27
Summary 28
Key Terms 29
Exam Essentials 29
Review Questions 31
CHAPTER 2 INSERTING AND FORMATTING TEXT 33
Adding and Replacing Text 34
Finding and Replacing Text 34
Inserting Symbols and Special Characters 38
Formatting Text and Paragraphs 40
Adding Text Effects 40
Applying Formatting by Using Format Painter 41
Setting Line and Paragraph Spacing and Indentation 41
Applying Built-In Styles to Text 44
Clearing Formatting 45
Creating and Configuring Document Sections 48
Formatting Text in Multiple Columns 48
Inserting Page, Section, and Column Breaks 50
Changing Page Setting Options for a Section 51
Summary 54
Key Terms 55
Exam Essentials 55
Review Questions 56
CHAPTER 3 MANAGING TABLES AND LISTS 59
Creating Tables 60
Converting Text to Tables 62
Switching Tables to Text 63
Creating Tables by Specifying Rows and Columns 64
Modifying Tables 66
Sorting Table Data 66
Configuring Cell Margins and Spacing 68
Merging and Splitting Cells 71
Resizing Tables, Rows, and Columns 73
Splitting Tables 78
Configuring a Repeating Row Header 80
Creating and Formatting Lists 83
Structuring Paragraphs as Numbered and Bulleted Lists 83
Changing Bullet Characters and Number Formatting 84
Defining Custom Bullet Characters and Number Formatting 86
Increasing and Decreasing List Levels 89
Restarting and Continuing List Numbering 90
Setting Starting Number Values 92
Summary 93
Key Terms 94
Exam Essentials 94
Review Questions 95
CHAPTER 4 BUILDING REFERENCES 97
Creating and Managing Referencing Elements 98
Inserting Footnotes and Endnotes 98
Modifying Footnote and Endnote Properties 101
Creating and Modifying Bibliography Citation Sources 102
Inserting Citations for Bibliographies 105
Working with Referencing Tables 107
Inserting Tables of Contents 107
Customizing Tables of Contents 108
Adding Bibliographies 110
Summary 111
Key Terms 111
Exam Essentials 112
Review Questions 113
CHAPTER 5 ADDING AND FORMATTING GRAPHIC ELEMENTS 115
Inserting Illustrations and Text Boxes 116
Adding Shapes 116
Including Pictures 118
Inserting 3D Models 119
Adding SmartArt Graphics 120
Placing Screenshots and Screen Clippings 121
Inserting Text Boxes 123
Formatting Illustrations and Text Boxes 125
Applying Artistic Effects 125
Adding Picture Effects and Picture Styles 126
Removing Picture Backgrounds 129
Formatting Graphic Elements 130
Setting Up SmartArt Graphics 132
Working with 3D Models 134
Adding and Organizing Text 135
Formatting Text in Text Boxes 135
Adding Text in Shapes 137
Changing SmartArt Graphic Content 139
Modifying Graphic Elements 140
Positioning Objects 140
Wrapping Text Around Objects 141
Adding Alt Text to Objects 144
Summary 146
Key Terms 146
Exam Essentials 146
Review Questions 147
CHAPTER 6 WORKING WITH OTHER USERS ON YOUR DOCUMENT 149
Adding Comments 150
Inserting Comments 150
Reviewing and Replying to Comments 151
Resolving Comments 152
Deleting Comments 153
Tracking Your Changes 155
Turning On Track Changes 155
Reviewing Tracked Changes 156
Accepting and Rejecting Tracked Changes 157
Locking and Unlocking Change Tracking 160
Summary 163
Key Terms 163
Exam Essentials 163
Review Questions 164
APPENDIX ANSWERS TO REVIEW QUESTIONS 167
Chapter 1: Working with Documents 168
Chapter 2: Inserting and Formatting Text 168
Chapter 3: Managing Tables and Lists 169
Chapter 4: Building References 170
Chapter 5: Adding and Formatting Graphic Elements 170
Chapter 6: Working with Other Users on Your Document 171
Index 173
Artikel-Details
Anbieter:
Wiley
Autor:
Eric Butow
Artikelnummer:
9781119718291
Veröffentlicht:
04.12.2020
Seitenanzahl:
208