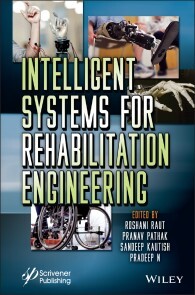 Intelligent Systems for Rehabilitation Engineering
Lieferzeit Sofort lieferbar
Intelligent Systems for Rehabilitation Engineering, Wiley
Von Roshani Raut, Pranav Pathak, Sandeep Kautish, Pradeep N., im heise Shop in digitaler Fassung erhältlich
Artikel-Beschreibung
INTELLIGENT SYSTEMS FOR REHABILITATION ENGINEERING
ENCAPSULATES DIFFERENT CASE STUDIES WHERE TECHNOLOGY CAN BE USED AS ASSISTIVE TECHNOLOGY FOR THE PHYSICALLY CHALLENGED, VISUALLY AND HEARING IMPAIRED. Rehabilitation engineering includes the development of technological solutions and devices to assist individuals with disabilities, while also supporting the recovery of the disabled who have lost their physical and cognitive functions. These systems can be designed and built to meet a wide range of needs that can help individuals with mobility, communication, vision, hearing, and cognition. The growing technological developments in machine learning, deep learning, robotics, virtual intelligence, etc., play an important role in rehabilitation engineering. Intelligent Systems for Rehabilitation Engineering focuses on trending research of intelligent systems in rehabilitation engineering which involves the design and development of innovative technologies and techniques including rehabilitation robotics, visual rehabilitation, physical prosthetics, brain computer interfaces, sensory rehabilitation, motion rehabilitation, etc. This groundbreaking book
* Provides a comprehensive reference covering different computer assistive techniques for the physically disabled, visually and hearing impaired.
* Focuses on trending research of intelligent systems in rehabilitation engineering which involves the design and development of innovative technologies and techniques.
* Provides insights into the role of intelligent systems in rehabilitation engineering.
AUDIENCEEngineers and device manufacturers working in rehabilitation engineering as well as researchers in computer science, artificial intelligence, electronic engineering, who are working on intelligent systems. ROSHANI RAUT, PHD is an associate professor in the Department of Information Technology at Pimpri Chinchwad College of Engineering, Pune University, India. She has presented and published more than 70 research communications in national/ international conferences and journals and has published 13 patents.
PRANAV D. PATHAK, PHD from Visveswaraya National Institute of Technology, Nagpur, India. He is currently an assistant professor at MIT School of Bioengineering Sciences & Research, Pune. SANDEEP KAUTISH, PHD in Computer Science on Intelligent Systems in Social Networks is Professor & Dean of Academics with LBEF Campus, Kathmandu Nepal. He has published more than 40 papers in international journals. PRADEEP N., PHD is an associate professor in Computer Science and Engineering, Bapuji Institute of Engineering and Technology, Karnataka, India. He has a number of edited books and journal research articles to his credit.
Artikel-Details
Anbieter:
Wiley
Autor:
Pradeep N., Pranav Pathak, Roshani Raut, Sandeep Kautish
Artikelnummer:
9781119785644
Veröffentlicht:
31.12.2021
Seitenanzahl:
272