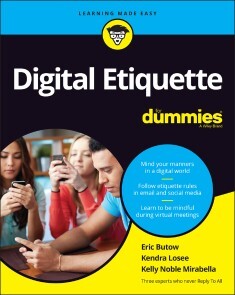 Digital Etiquette For Dummies
Lieferzeit Sofort lieferbar
Digital Etiquette For Dummies, Wiley
Von Eric Butow, Kendra Losee, Kelly Noble Mirabella, im heise Shop in digitaler Fassung erhältlich
Artikel-Beschreibung
MIND YOUR ONLINE P'S AND Q'S WITH THIS EXPERT DIGITAL MANNERS GUIDE
Conducting yourself online can be challenging. It sometimes seems like the web and social media is tailor-made to cause upset and anger. But, with the right guide, anyone can learn how to be a beacon of civility and politeness online. In Digital Etiquette For Dummies, a team of online communication experts share their combined insights into improving your presence on social media, writing emails that exude positivity and clarity, behaving correctly in virtual meetings, and much more. You'll become a paragon of politeness as you learn to apply the timeless rules of etiquette to the unique environment of the web, social media, email, Zoom, and smartphones. In this book, you'll also:
* Learn near-universal etiquette rules for email, social media, cellphones, and more
* Discover ways to make sure that your polite attitude isn't being lost in the text-only context of a business email
* Avoid common social media pitfalls and digital faux pas that can trip up even the most careful communicators
A great handbook for anyone who uses digital communication in business or in their personal life (so, pretty much everyone), Digital Etiquette For Dummies also belongs on the reading lists of those trying to improve their online interactions on social media. ERIC BUTOW has written 41 books and is coauthor of Instagram For Dummies and Instagram For Business For Dummies, 2nd Edition.
KENDRA LOSEE is a digital marketing consultant and professor of social media marketing. KELLY NOBLE MIRABELLA is a social media and chat marketing consultant and YouTube content creator. Introduction 1
PART 1: ETIQUETTE GUIDELINES 5
Chapter 1: Defining Etiquette in the Digital Age 7
Chapter 2: The Legal Ins and Outs of Etiquette 23
Chapter 3: Minding Your Online Manners at Any Age 51
PART 2: SOCIAL MEDIA ETIQUETTE 63
Chapter 4: Learning the Language of Social Media 65
Chapter 5: Sharing Your Thoughts in Posts and Comments 81
Chapter 6: Handling Negative Comments and Reviews 101
Chapter 7: Going Viral: The Good, the Bad, and the Unintended 115
Chapter 8: Group Decorum 129
Chapter 9: Being Likeable During Livestreaming 143
PART 3: EMAIL COURTESIES 157
Chapter 10: Email Best Practices That Won't Let You Down 159
Chapter 11: Spam, the Law, and You 169
PART 4: VIRTUAL MEETING MANNERS 187
Chapter 12: The Basics of Virtual Meetings 189
Chapter 13: Leading a Virtual Meeting 201
Chapter 14: Making an Appearance at a Virtual Meeting 215
Chapter 15: Webinar and Online Event Proprieties 229
PART 5: MOBILE MIEN 245
Chapter 16: Context in Messaging and SMS 247
Chapter 17: No One Wants to Hear Your Phone 257
Chapter 18: When and How to Use Text Messaging SMS 269
Chapter 19: Pleasant Direct Messaging 283
PART 6: THE PART OF TENS 303
Chapter 20: Ten Good Manners to Follow 305
Chapter 21: Ten Bad Behaviors to Avoid 313
Index 321
ntroduction 1
PART 1: ETIQUETTE GUIDELINES 5
Chapter 1: Defining Etiquette in the Digital Age 7
Chapter 2: The Legal Ins and Outs of Etiquette 23
Chapter 3: Minding Your Online Manners at Any Age 51
PART 2: SOCIAL MEDIA ETIQUETTE 63
Chapter 4: Learning the Language of Social Media 65
Chapter 5: Sharing Your Thoughts in Posts and Comments 81
Chapter 6: Handling Negative Comments and Reviews 101
Chapter 7: Going Viral: The Good, the Bad, and the Unintended 115
Chapter 8: Group Decorum 129
Chapter 9: Being Likeable During Livestreaming 143
PART 3: EMAIL COURTESIES 157
Chapter 10: Email Best Practices That Won't Let You Down 159
Chapter 11: Spam, the Law, and You 169
PART 4: VIRTUAL MEETING MANNERS 187
Chapter 12: The Basics of Virtual Meetings 189
Chapter 13: Leading a Virtual Meeting 201
Chapter 14: Making an Appearance at a Virtual Meeting 215
Chapter 15: Webinar and Online Event Proprieties 229
PART 5: MOBILE MIEN 245
Chapter 16: Context in Messaging and SMS 247
Chapter 17: No One Wants to Hear Your Phone 257
Chapter 18: When and How to Use Text Messaging SMS 269
Chapter 19: Pleasant Direct Messaging 283
PART 6: THE PART OF TENS 303
Chapter 20: Ten Good Manners to Follow 305
Chapter 21: Ten Bad Behaviors to Avoid 313
Index 321
Artikel-Details
Anbieter:
Wiley
Autor:
Eric Butow, Kelly Noble Mirabella, Kendra Losee
Artikelnummer:
9781119870166
Veröffentlicht:
21.03.2022
Seitenanzahl:
352